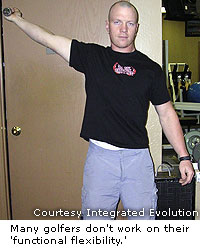 By now it is common knowledge that improving flexibility will enhance golf performance. There are numerous programs ("golf-specific flexibility," "yoga for golf,") available. The problem with many of these programs is they address only static flexibility, which is great if you have some serious muscle tightness. What they do not address is the issue of functional flexibility (the ability to move through all planes of motion/direction while maintaining muscular control).
Golf requires a high level of functional flexibility. In order to swing a golf club, the hips, trunk and shoulders must move through extreme ranges of motion. Not only that, but the muscles of each body segment are required to work in conjunction, from the address to the follow-through, to produce a golf swing that is true, accurate, and powerful. Because flexibility is a foundational physical ability in golf, it only seems prudent to address flexibility with dynamic exercises that are specific to the movements required by golf.
Here are four dynamic exercises to improve flexibility:
Dumbbell PNF Proprioceptive Neuromuscular Facilitation (shoulder flexibility/stability)
Total Body Extension (total body flexibility)
Pick-up and Rotate (trunk and hip flexibility)
Lunge with Rotation (trunk and hip flexibility)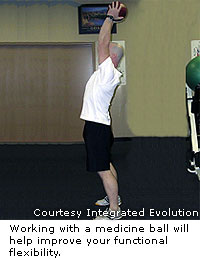 In some of the pictures, you see me using a medicine ball or a dumbbell. If you are unable to use these pieces of equipment, don't worry. Spend some time perfecting your form using just your body weight and then add some resistance. Possible options are a can of soup, water bottle, or a small child if you are really feeling good (just kidding!).
Exercise Protocol: Two sets of 10-15 repetitions of each exercise every day. Increase your resistance only after you have perfected each movement.
Note: On Pick-up and Rotate and Lunge with Rotation be sure to perform equal numbers of repetitions both directions.
Tips for making the exercises more effective:
• Always stand with good posture.
• Always slightly retract and depress your shoulders (press them down and back. Maintain this position throughout the movement.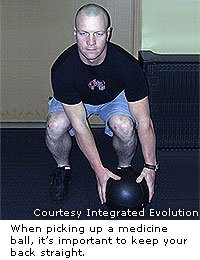 • Practice the "Drawing-In Maneuver." This is a function of the inner musculature of the torso, the Inner Unit muscles. One of the Inner Unit's main functions is to stiffen the torso in preparation for work, e.g., lifting weights. The easiest way to learn to perform the "Drawing-in Maneuver" is to lie flat on your back, relax, and perform diaphragmatic breathing. When done properly, your stomach should rise when you inhale and fall when you exhale. When your stomach falls, you want to hold that contraction. This is the most basic form of the "Drawing-in Maneuver."
• Always to try to maintain a neutral spinal curvature, meaning that you are neither over-arching or rounding your back.
• Always to try to keep your knees in line with the center of your feet. Don't let your knees cave in or bow out.
• Start with no weight and perfect the movement, then choose a VERY light weight.
So there you have it. Four dynamic exercises for golf-specific functional flexibility that will have you well on your way to shooting lower scores! Enjoy.
Note: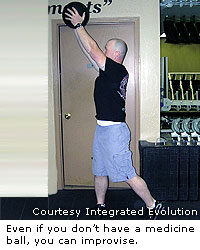 Before beginning any exercise or dietary program, consult with your physician to ensure that you are in proper health and that any exercise or dietary program you undertake will not put you at risk.
Troy M. Anderson, B.A., PES, CPT, IACPFT, is the owner of Integrated Evolution, LLC, in Tempe, AZ. The No. 1 goal of Integrated Evolution is to provide individuals with solutions to their performance enhancement needs. For more golf fitness tips, subscribe to The Evolutionary at integratedevolution.org and download your FREE Reports. The Eight Keys To Golf Fitness Success and How To Build The Perfect Athlete For Any Sport – GOLF. Troy may be contacted at integratedevolution@cox.net or called at (480) 227-8090.